It's been rather difficult keeping fit whilst living this hectic jet-setter lifestyle, but I try whenever possible by adding some "forced" exercise into my daily routine.
Moving from one African country to another has its normal logistical challenges, but keeping fit is always a challenge — that's why my little folding bicycle, which I picked up in China last year, is with me on every trip.
Packing a bicycle in my suitcase has its advantages and disadvantages but at least I'm never stuck for transport and the clients are always amused to see an expat arriving on two wheels — even more so when I fold it up and stand it next to my desk. Usually I avoid any airline "sports equipment" penalties because the whole suitcase, including bike and clothing, weighs less than 20kg; and since the whole bike folds up neatly into one large case, I hardly ever have problems with customs.
It certainly causes a fuss on the streets of Accra as much as it does in Harare. In countries where the fascination with the car is increasing at an alarming rate, it's nice to meet individuals who see past the western infatuation with the automobile and understand the convenience and advantage of cutting through traffic on two wheels.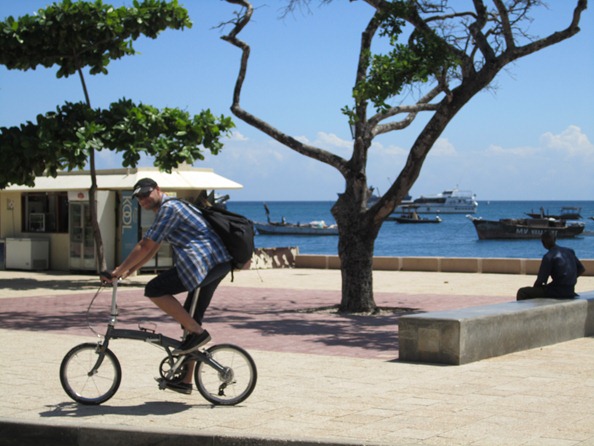 It's serious fun riding a bike in some of the most congested cities in the world, dodging and diving from lane to lane, from gutter to median and past the traffic cops – who for just a split second don't know whether to pull me over for running a red light or keep trying to figure out how a man so tall can operate a contraption so small.
GD Star Rating
loading...
Nothing Quite Like Forced Exercise

,